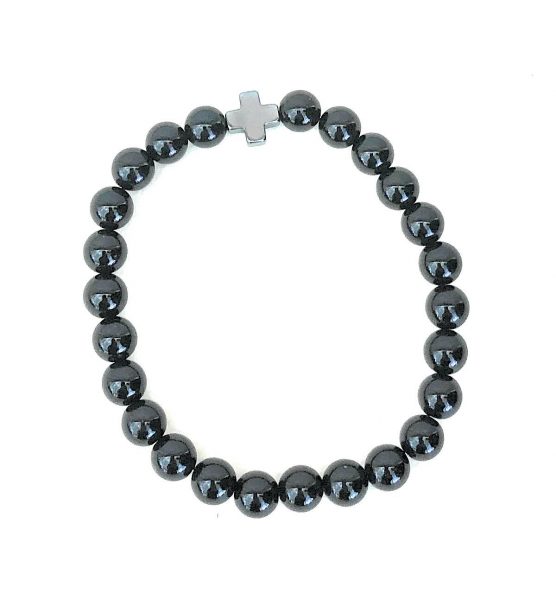 This product is made with 25 black plastic beads in addition to one cross shaped bead. These are linked by an elastic plastic band so that it sits snugly on your wrist but can also be removed easily. Moveable bead also makes tracking around the bracelet with your thumb easier so that you never lose your place.
Note: this item is not made by the monks; it is sold for income to support our monastery
Product Description
This elastic prayer bracelet is perfect for quickly turning to prayer at any moment of the day. It is commonly used for recitation of the Jesus Prayer which is a brief, well known prayer practiced throughout the world. It is: "Lord Jesus Christ, Son of God, have mercy on me."
In the first part of the prayer, we proclaim our faith in Jesus Christ as Lord and Son of God which is effective for salvation as St Paul teaches in Romans 10:9, "if you confess with your mouth the Lord Jesus and believe in your heart that God has raised Him from the dead, you will be saved." This proclamation is not to be taken lightly, for St Paul also says in 1 Corinthians 12:3, "no one can say that Jesus is Lord except by the Holy Spirit." Thus, it is by the Holy Spirit that we lift up our hearts to God, and proclaim in the spirit of worship and adoration that indeed, Jesus Christ is Lord and Son of God, and in doing so, we proclaim His Lordship over us and seek His almighty reign over our hearts and all aspects of our lives.
In the second part of the prayer, we petition our beloved Lord Jesus Christ for mercy, just as the blind man did in Luke 18 when he heard Jesus passing by and cried out, "Jesus, Son of David, have mercy on me!" A petition for mercy is simultaneously an admission of weakness, for if our strength and abilities were sufficient, we would not seek mercy from another. However, seeing that we are weak and innumerable temptations and difficulties assail us, we cry out to one mighty to save, and begging shamelessly, we stir Him to compassion. Indeed, Jesus loves us dearly, even as a father does his children, and He cannot constrain Himself from those who cry out to them, though He may sometimes linger as it says in Luke 18:7, "And shall God not avenge His own elect who cry out day and night to Him, though He bears long with them?" With inscrutable wisdom, God may not always answer immediately at our first petition, for perhaps if He did, we would lose sight of Him as a person, and thereafter seek only His benefits. For this reason, we must plead for mercy repeatedly and unceasingly until our souls finally come to the realization that Jesus Himself is what we need, and not merely solutions to problems. Then, surely, our souls will reach the safe haven of His tender bosom where streams of abundance flow and where every tear is wiped away.
May this bracelet be a blessing to you and an aid in your sojourn to our Heavenly home.
---